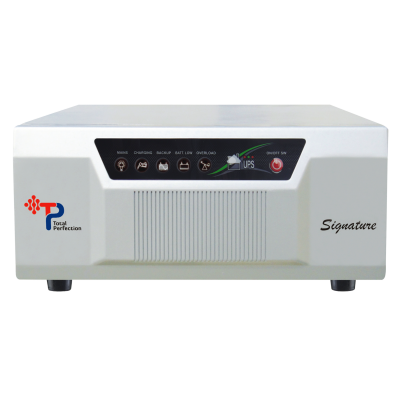 Signature UPS Quasi Square Wave - 1250, 1100VA, 12V
Micro Computer based design ensures high reliability ruggedness.

"SIGNATURE" charging is most advanced charging solution for healthy and longer life of battery. It is battery friendly. Reduces running cost.

Auto charging according to

-Battery type (Non branded-branded, Tubular-Non tubular, Lead acid-SMF battery)

-Capacity (100Ah to 200Ah)

-Age (new or old)

-Power cuts duration

Only UPS in India which charges batery faster from 100V-290V AC. Above 120V charging current is 10A-12A. Fastest in industry.

Thyristor short circuit protection- Battery will never blast due to uncontrolled charging current caused by failure of charging circuit.

Zero volt battery pick-up- even if the voltage goes below 9V, it straightway charges the battery. No need to carry battery to external charger.

PFC technology reduce electricity bill. Free in built energy saver worth 1500/-.

High frequency technique is used in changeover to avoid computer rebooting.

Temperature Guard- If internal temperature of UPS increases beyond specified limits, a special sensor shutdowns and protects the UPS.

Cooling fan installed inside reduces the operating temperature of UPS, thus enhances the perfromance.

Safety from double phase, short-circuit, phase reversal and accidental AC back feed.

Green Mode- UPS shut downs itself within 10 hrs in backup mode if there is zero load connected on it.

Runs 1/2 hp Water Pump on 900/1100/1500/2200VA.
Designer looks to suit your home decor.
Available in 500/600/700/900/1100/1500/2200 VA models.
Model:

Signature UPS Quasi Square Wave - 1250, 1100VA, 12V

SKU:

sign-1100va