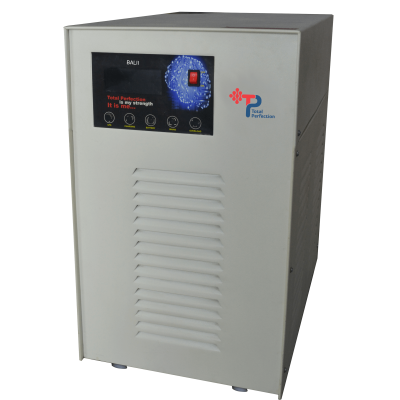 High Capacity Sine Wave 5 kVA, 48 Static UPS
Range: 2/2.5/3/3.5/5/6/7.5/10/15/20/30/40/50/60/100 KVA

DSP / Micro controller based design using PWM technology.

Pure Sine Wave output with constant voltage frequency.

Battery Friendly: Safeguards controls the battery temp IBM Charging Technology: Intelligent Battery Management. improves power factor up to 0.9 cuts down electricity bills.

In-Built LCD LED panel: For continuous information about status operations.

ECAC Technology (Error Correction Analogue Compare).

Low THD - Produces electricity just like as your mains supply.

Also available Static UPS for computer applications.

Software Gateway: ASC Technology-Asessing system configuration - It verifies all critical system parameters at the time of start and during the running of the system.

Inbuilt TDR*: Time Delay Relay - Safegaurds compressor equipped appliances during changeover period with a minimum time delay of 2.5 mins.

Battery Friendly.

Lift Inverter also available.

Quality product from TPIL.
Applications:- Computer, Telecom, Deep Freezers, Air conditioners, Petrol Pump Machines, Small Scale, Industries, Malls, Hotels Restaurants, Banks, Clinics, All kitchen Appliances Home Appliances, Weighing Bridges many more
Tags:
High Capacity Pure Sine Wave 2.5 KVA
,
48V Static UPS
,
High Capacity Pure Sine Wave 3.5 KVA
,
48V Static UPS
,
High Capacity Sine Wave 5KVA
,
48 Static UPS
,
High Capacity Pure Sine Wave 5KVA
,
96V Static UPS
,
High Capacity Pure Sine Wave 7.5 KVA
,
120V Static UPS
,
High Capacity Pure Sine Wave 10KVA
,
180V Static UPS